DOUBLE YOUR INCOME IN JUST 8 WEEKS
Download this all-time classic bestselling book from Bruce King free.
Trade show promotional campaigns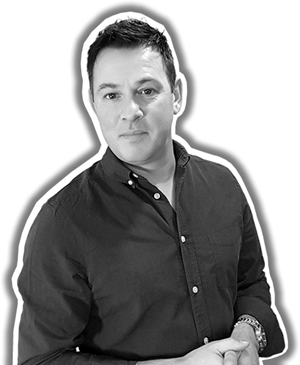 By Chris Haycock | 20 January 2022
Setting up a stand at a trade show can be a hugely successful activity - when done right. Here's how to ensure that your trade show campaign can get the results you want.
Back in 2001 when I was a member of the marketing team at a top-ten law firm in London, I was part of a small team whose task was to run a series of trade show exhibitions, headed up by my boss Linda, who was the Head of Marketing.
I was 30 at the time, and only had a few years of marketing expertise in the professional services industry.
I don't want to guess how much older Linda was than me, but she had several decades of marketing under her belt. This was just at the start of the dot com boom, so Linda's experience was purely "old-school" marketing, including direct mail, telesales, PR, and copywriting for our literature.
Working alongside Linda was fundamental to building my own skill set, and thanks to the knowledge that I picked up from her, it gave me a huge amount of skills that have benefited me so much in my career in marketing.
That experience included lots of time producing and attending trade shows.
Like most things in marketing, there's some background work that needs to be done way before setting up a stand at a trade show. It can be hard work, and it takes time, effort and thought to get it right.
But when you get it right, a trade show or exhibition campaign can bring in an absolute flood of brand new warm leads that are prime for converting into long-term, loyal customers.
Why? well, this type of marketing is VERY personal. Unlike digital, at trade shows you get to physically meet your potential customers - on THEIR terms. After all, they've CHOSEN to attend the trade show, and they're ready and waiting - wallet in hand - to do business with you.
This makes trade shows and exhibitions an incredibly valuable promotional activity, and the return on investment can be massive - if it's been executed in the right way.
No where else can you chat face-to-face with your prospects on their turf - after all, they came to see YOU. It's the ideal way to not only get to know your customer's pain points, motivations and desires (ie fantastic market research), but it can be very profitable too.
So, going back to our trade show events. When we first started, we made the mistake of not having a real plan - or purpose. It was more of a branding and awareness exercise, if I'm honest. But deep down, we didn't have a goal. That was a mistake.
Rather than putting together a plan of action - and a set of desired outcomes, we spent all our time printing flyers, business cards, name tags, pamphlets and banner stands.
Don't get me wrong - they looked amazing. We had the whole package going, and we had one of the best-looking stands at the exhibition.
But after our first show, we didn't really have much to show for it… just a bowlful of business cards from people who wanted to enter our prize draw. There's nothing wrong with this tactic, but on our first couple of shows, we failed to see the bigger picture.
We felt like novices. What we got was what we didn't really want - a pile of business cards from cold prospects who just wanted to win a prize.
What we didn't get was what we really wanted - warm prospects that we could build solid relationships with - and turn them into loyal customers.
Prize draws are great, but don't expect to double your sales using this technique. It was a valuable lesson, and led us on very quick, and steep learning curve,
Our goal from the start should have been something different. Trade shows are an absolutely incredible way of discovering the pain points, concerns, and needs of the target market.
They're priceless, because as I said previously - you're there - chatting with your potential future customers face-to-face - on their terms. And that allows you to get right under their skin to find out what makes them tick.
Not only do you have a potential to use trade shows to sell products, but it's free market research that you can discover so much about your target market.
Also, we should have spent more time building relationships with possible customers, rather than trying to tempt them into dropping their business card into a bowl to win a prize.
But we soon learned from our mistakes. By the time we ran our third trade show event, we were better prepared. Rather than chasing business cards, we took time to listen very carefully to the delegates who were at the shows.
We took our marketing heads off, and really took the time to do nothing other than to build relationships with potential clients. We listened to their needs. We laughed with them. We practically opened our hearts to them.
And it worked. We had become skilled at identifying exactly what our future clients were looking for, and we adapted our approach based on that level of knowledge.
When we did that, rather than a bunch of business cards, we had scorching hot leads from wealthy clients itching to come onboard.
We had a stunning trade stand, but that's not the reason we were able to hook so many clients in.
We understood that trade show campaigns aren't about the quality of the stand. It wasn't really about the quality of our services ether, even though we were a top-10 law firm already. It was the quality of the people being the stand that really mattered.
Always remember, it's YOU that people will deal with. If you win them over, you can pretty much guarantee they'll choose you, rather than the guys and girls at the neighbouring stand, who are just desperately trying to sell their products without building relationships first.
People will always flock to other people who want to listen to them. Business is no different.
So, let's take a look at the strategy behind running a successful trade show campaign.
As with pretty much anything in marketing, a successful campaign always starts with a desired outcome, and a plan of action.
First, think carefully about what it is you actually want to get out of taking part in a trade show or exhibition. That probably sounds like an obvious things to do, but when you're getting all excited about putting together your banner stands, print materials and business cards, it's easy to get sidetracked.
So, the first thing you'll need to do is write down your goals. Do you want to collect sales enquiries? Do you want to sell products at the show? Do you want to introduce a brand new product and raise initial interest? Do you want to use the show to gather some market research or feedback? Or do you just want to get some brand awareness?
Always begin with a desired outcome. That way, you'll not only be able to prepare all the materials you'll need, but also determine whether you met your objectives once you're done and dusted.
Next up, the fun bit - getting together the promotional materials you'll need for the show. Personally, this stage is my favourite, because I enjoy designing everything myself. If you have a bit of a talent for design and advertising, this can be a blessing. Outsourcing to a designer can often mean the message you're trying to convey gets lost.
But whether you're putting together your own promotional materials yourself, or getting someone else to design it, always remember step one - your goals, and make sure everything you get printed reflects that message.
Make that message as clear as possible on everything you produce, from your banner stands to your brochures.
So, what promotional materials do you need when you're running a trade show campaign?
Well, to begin with, think about how you want your stand to appear. Some bigger brands might want to go the whole hog with huge, elaborate stands costing tens of thousands of pounds. But don't fall into the trap of spending too much on your stand, unless you can be 100% sure that your stand will be the reason you have a positive return on investment.
My advice would be to keep things relatively simple. You don't need to be spending thousands of pounds on your stand unless you're going to be competing with businesses doing the same - and that's doubtful for most small businesses.
So keep it low key, especially if you're just starting out. You don't want to spend a fortune on expensive trade show visuals to find you got the message wrong. It's a very costly mistake to make.
Instead, get simple roller banner stands instead. The cost of digital printing has come down massively over the last decade. It used to cost a couple of hundred to get roller banners printed, but now you can get a six-foot by 3-foot banner - with everything to go with it, for around £70.
There are many companies offering really quick turnaround times on banner stands. From design to delivery, you can get them done in 2 or 3 days using self-service websites. I'll list a couple of those that I recommend personally in the resources section on this tutorial.
If you're selling your services, rather than a physical product, things become even simpler from here on.
You won't need to lug about all your products - the only other things you really need are some flyers or brochures that delegates can take home.
Remember, you don't need to go too fancy on these. Five thousand A5 flyers printed on quality silk or gloss paper, full colour, double sided costs around £100 if you shop around on the web. Again, look for some recommended websites in the resources section.
One thing I will stress when it comes to printed materials such as banners, leaflets, and brochures is to NOT make the mistake of focusing on the features of your product or service.
I'll scream this until the cows come home, but you've got to outline the benefits before listing the features.
Delegates attending trade shows don't care about the features of your product or service. What they care about is whether you can solve their problem, and their pain points.
By all means, list the best features of your product, but make sure you're addressing the benefits first.
If all else fails, make sure delegates know that you're aware of their need, and show them how they will benefit from your product or service.
Next, let's talk about business cards. You don't really need business cards if you've got your full name, contact details, and website address on your flyers or brochures.
But oddly enough, you still get people trawling around trade shows collecting business cards like they're playing Top Trumps. If you're in business, you'll probably already have business cards printed, so you may as well take them so people can slide them into their wallet if they're interested in doing business with you.
Onto Promotional freebies. You quite often see delegates walking around the trade shows with bags of free merchandise such as pens, calculators, hats, mugs, notebooks, that sort of thing. It's as if some people just go to pick up the freebies.
And honestly, why not! If they're giving them away, you might as well take them home!
But beware of those people who just go round swiping all your goodies like it's Christmas. Promotional products aren't cheap - especially if you're giving them away in the hundreds, so you're best keeping them out of sight - and just give them to delegates who show a genuine interest in your business.
Next up, let's discuss the staff at your tradeshow. The chances are that you'll want to be there yourself as a business owner.
That's a wise move, because there is very rarely anyone within your business who can pitch your business with such passion as you.
But if it's a busy trade show, then you'll want to ensure that you have enough staff on hand to ensure that delegates can chat with a member of your business when they need to. There's nothing worse than having to wait around for hours to chat with someone.
Remember, the staff you take along are responsible for pre-qualifying delegates that visit your stand. That means they'll need to establish a warm and friendly relationship with them quickly.
So, as well as taking members of staff that are knowledgeable with your products and services, they need to be good with people too. Taking the shyest person in your team isn't the best idea - nor is inviting the loudest too.
The best people to take along with you are those that have excellent communication and customer service skills, who also have a great idea of your products and how they meet the needs of the buyer. They must also be a very, very good listener.
Where possible, give your staff a well-practiced script to follow. This should include a short one-minute overview of your business, your products - and their benefits.
After that, you'll need to ensure that your team ask a series of specific questions designed to find out if delegates are strong prospects - or not.
If you know a delegate is particularly interested, then it's over to the 'close' - a sales technique designed to maximise the chances of a sale. Luckily, Bruce King has plenty of knowledge in this area, so check out his tutorials here on The Rainmakers.
And finally, when the trade show is over, and you've had a good rest, you'll hopefully have a great list of prospective leads that you can follow up.
One last tip with these leads. One of the best ways to follow them up is to categorise them before you contact them. That way, you can concentrate on the 'hottest' leads first.
Put all your leads into three different groups - hot, warm and cool.
Even though it's important to reach out to those prospects as quickly as possible, remember to always have the materials in place before you contact them.
For each group, ask yourself, "what sales tools or literature do I need to deliver to these potential customers?"
Being organised this way will ensure that you maximise the chance of the sale, and you won't be digging around trying to find bits and pieces that you need to send to your prospects.
Oh, and once you've contacted all your leads, don't forget to measure your results. Ask yourself, "did I accomplish my goals?" If so, "why and how" did I do it.
Measuring your results will help you to replicate and improve on your success on your next trade show.
Summing it all up, trade shows can be incredibly rewarding - both from a profitable point of view, a market research point of view, and can be really enjoyable too.
But you need to be prepared with a plan of action, a goal that you want to achieve, and a system to follow up enquiries once you've packed everything away and made your way back to the office, ready to do the selling.
So, that pretty much wraps up the basics of trade show marketing. It's a fascinating and enjoyable promotional campaign to run, and it can teach you a huge amount of valuable skills in sales AND marketing.
There will be more tutorials on the subject of trade shows soon, so keep an eye out for them.
Good luck, and don't forget to leave your feedback, ideas, and personal experiences.
http://www.marketingmo.com/campaigns-execution/trade-show-marketing-how-to-improve-your-results/
---

There's more inside The Rainmakers Club
Ready to double, triple or even quadruple your sales? Join the Rainmakers Club today and get access to hundreds more worksheets, ebooks, tutorials, guides, tools and downloads.
NEW FOR 2022! Join our growing club of successful small business owners and get The Raindeck free: a 3-deck strategy for brainstorming and running successful marketing campaigns.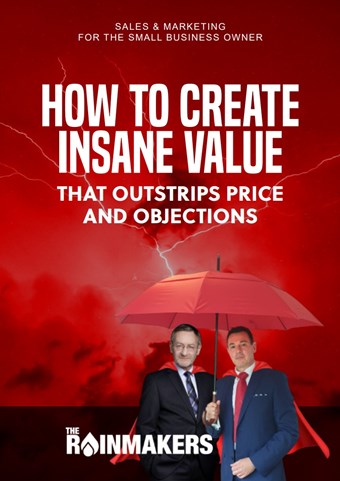 HOW TO CREATE INSANE VALUE
A must-have read for anyone that sells anything
Discover techniques and methods that will increase your product's perceived value - without having to change your product or prices.
Get the book free
GET STARTED WITH
The Rainmakers
Join today for the price of your daily cup of Mocha coffee, and become a sales and marketing giant.
Learn sales & marketing
Double, triple, or quadruple your sales and income.
Expert mentoring
Learn from renowned sales and marketing experts.
Exclusive resource library
Tools, downloads, cheat sheets and worksheets to help you succeed.
Free Raindeck strategy box
Brainstorm, plan and execute brilliant marketing campaigns in no time.
BECOME A RAINMAKER
Let's chat about it...
Schedule a no-obligation call with The Rainmakers Club team, tell us about your business and your biggest problem. We'll give you our advice and honest feedback if membership would work for you.
Helping businesses succeed for 50+ years