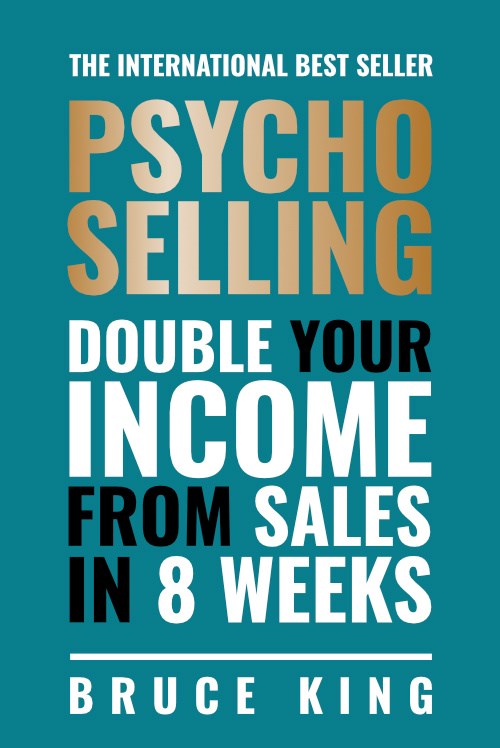 PSYCHO SELLING
Get the classic, best-selling book by the "King of Sales" completely free, and double your income in just EIGHT weeks.
A classic, must-have sales book for anyone that sells
anything
Discover sales techniques that will double your sales in just 8 weeks, from the leading authority on sales.
What this book will do for you
Make no mistake. This is a absolute classic book that quickly became the Bible of Salesmanship (and Saleswomanship). First published by BBC Books, this book rapidly became an international best seller, and has helped tens of thousands of salespeople around the world to double their income from sales - and often in less than 8 weeks.
Written by the "King of Sales", Bruce King, who reached critical acclaim decades ago in the cut-throat world of sales. Many have tried - but few have surpassed his skills as one of the world's best salespeople.
He starts with the basics: programming your mind to become more successful in sales, moving on to how to identify the perfect customers & clients, how to highlight the psycho-sales points, and how to overcome objections to win the order.
Each of the eight key stages is clearly and simply explained, illustrated by examples of specific situations and role plays and summarised in brief as an aide memoire.
Bruce King's eight simple steps, followed week by week, will help you reach your peak performance in sales.
This book contains techniques and methods that are designed to explode your sales. It shows you how you can easily implement his methods into your own business so that you can double your income from sales - in just 8 weeks.
If you want to discover how to grow your business by selling more of your products, download it now while it's free.
Grab your free copy of Psycho Selling to...
Double your sales & profits
Boost your confidence when selling
Learn highly effective sales techniques
Get customers to yell "YES!"
Understand what makes people buy
Overcome ANY objections
DOWNLOAD NOWYes! I need this book
From the author
"I wrote Psycho Selling in 1994. It was published that year in the UK by BBC Books and reached number two in The UK Times Newspaper best-selling business book charts.
Over the next twelve months the overseas rights were acquired by publishers in numerous countries, it was translated into many languages and launched my career as an international conference speaker.
I've had very many more years' experience selling and teaching others how to sell since then, so before I agreed to have it re-published, I decided to read it again myself, several times. I wanted to make sure it hadn't become outdated and that I was still prepared for people to read it and know that I wrote it.
Well, the fact is – I certainly was. I still stand firmly behind everything I wrote; the process works and I still get letters and emails regularly from people around the world thanking me for the results they achieved.
Psycho-Selling was written when I was full-time in the sales battlefield and totally dependent upon sales for my living. The techniques I write about and used, took me to the pinnacle of sales success and the fact is that tens of thousands of salespeople around the world testify to the fact that Psycho Selling was responsible for their often-amazing successes.
But don't just take my word for it. Read what others achieved as a result. What they said amazed me too!"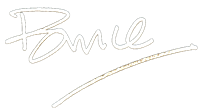 Bruce King
The Rainmakers Club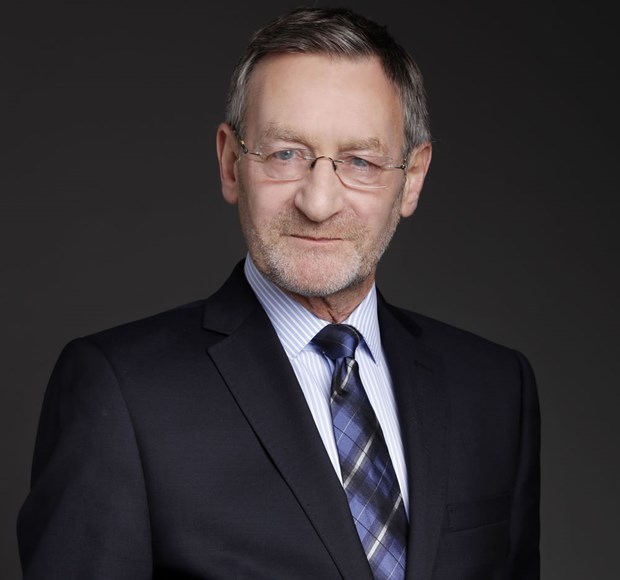 ABOUT THE AUTHOR
Bruce King is recognised internationally as a leading authority on sales, marketing and personal development.
With a career spanning over 25 years, he has achieved what can only be described as reaching 'the pinnacle of sales and marketing success'.
Bruce is a highly sought-after keynote conference speaker, Master Class presenter, business adviser and coach and his best-selling books have been published in over fifteen languages.
What's in the book?
The best-selling book Psycho Selling has helped inspire tens of thousands of sales people around the world to double their income from sales - and continues to do so.
Grab your copy free of charge now - secondhand copies crop up on Amazon at up to £95 for a single copy!
CHAPTER ONE

Psycho-dynamic programming

People love to buy from the very best salespeople, because they're confident, enthusiastic, friendly, and care about their products and their customers. Practice these exercises every morning and evening, and watch your sales increase.
CHAPTER TWO

Psycho-selling techniques

The principle of Win-Win is a key factor in sales success. Unless both the buyer and the seller can benefit from a transaction, there is unlikely to be a sale. Follow the key principles in this chapter to make it a Win-Win for both of you.
CHAPTER THREE

Buyers & their psychological profiles

There are two main categories of buyer: the conceptual, and the analytical buyer. This chapter shows you what techniques to use to gain immediate rapport with clients to make them do whatever you want them to do.
CHAPTER FOUR

Identifying perfect prospects

There are no sales without prospects to sell to, so it's critical to define in detail your perfect customer, and prospect for them only. The key exercises in this chapter will help you to build a pipeline of hot leads.
CHAPTER FIVE

Psycho-selling telephone techniques

Psycho-depersonalisation can overcome all resistance to cold calling. Whoever you are talking to, you are essentially giving a presentation. Bruce outlines the 'Matching Gears' and 'Yes Factor' techniques to win more sales.
CHAPTER SIX

The psychology behind objections

Without objections, there is rarely any interest in a product. There are three types of objections, and four psycho-rules for handling them effectively. Bruce helps you discover how objections can be overcome, and tailor your pitch for each psychological type of buyer.
CHAPTER SEVEN

Psycho-closes that guarantee success

Many sales people fail to attempt to close a sale, and the average sales person attempts just two closes. Here are 16 Psycho-Closes in this chapter that will boost your sales figures and grow your profits.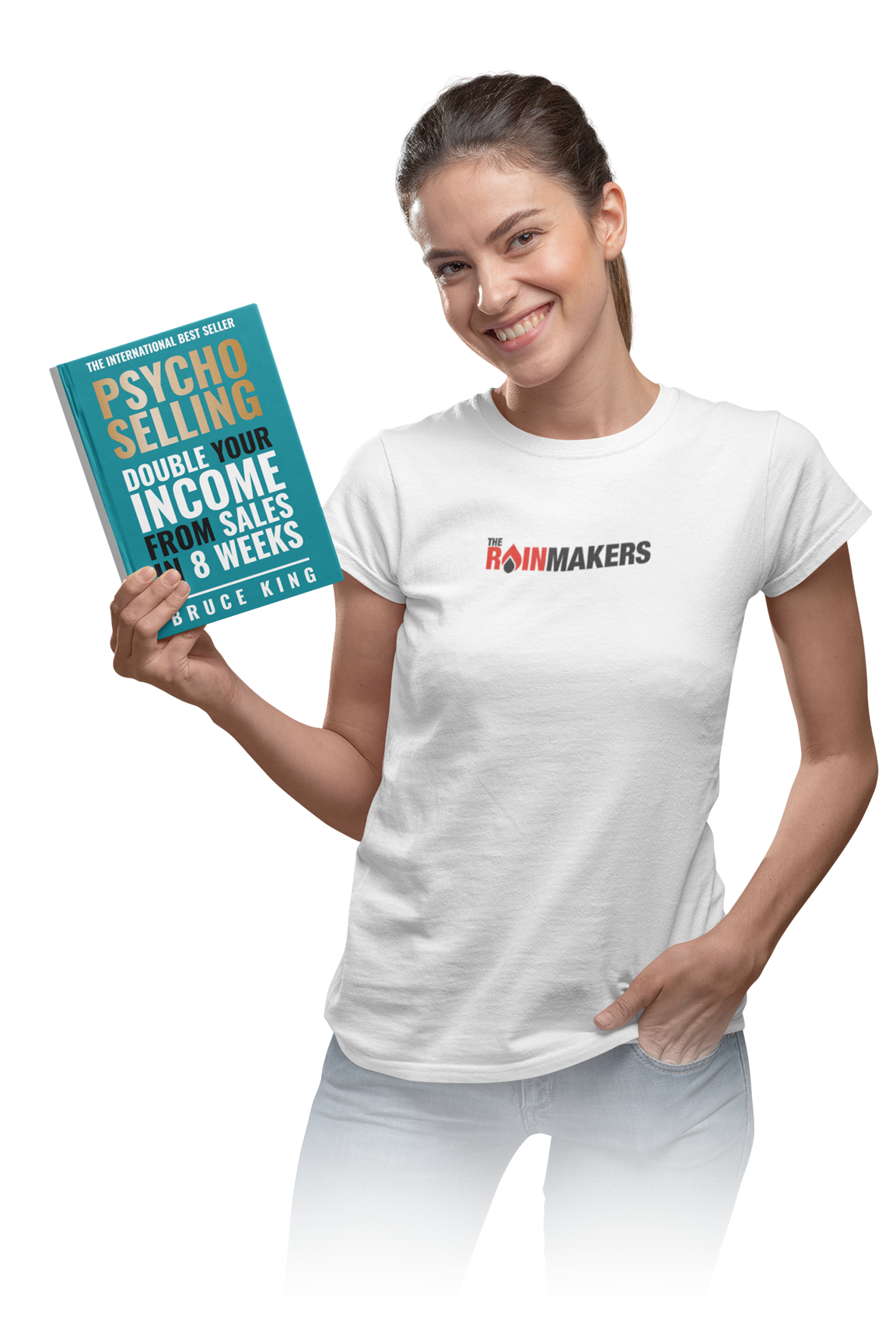 Look inside
A snapshot look at a handful of pages that will change the way you sell forever.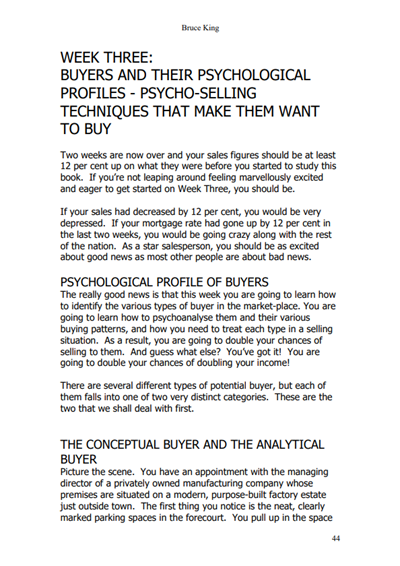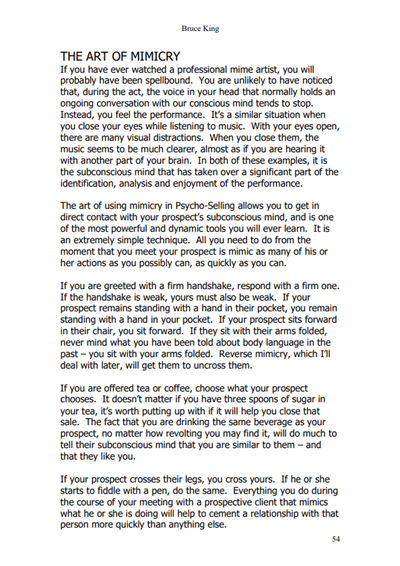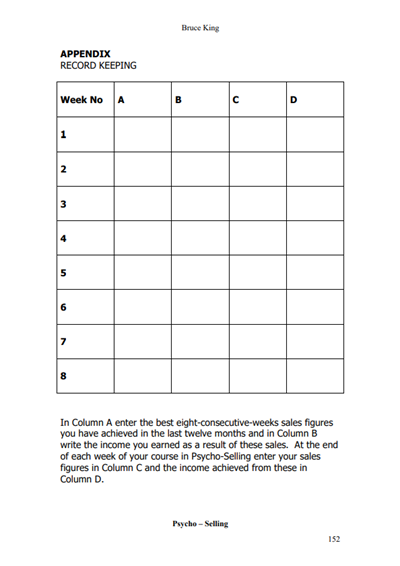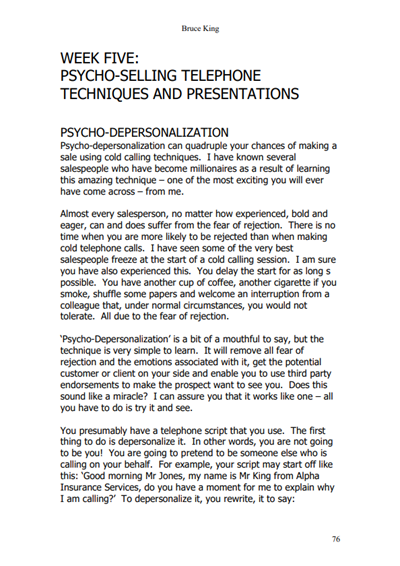 What people like you are saying
Here's two sales professionals that have gained results from Psycho Selling.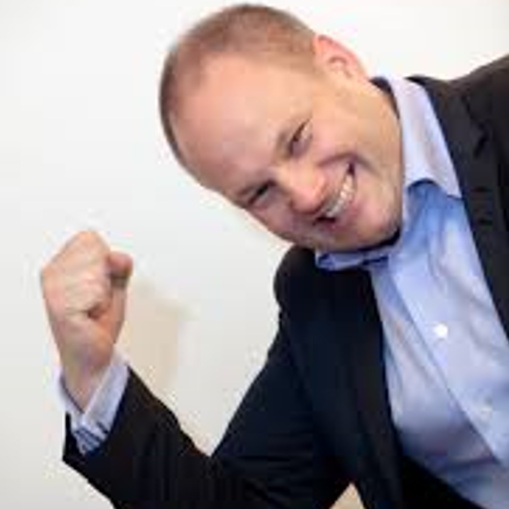 After three weeks, I discovered something. It was only me who was reading a chapter a week, only me who was putting what I learned into practice, and it was only me who was increasing my sales massively. Psycho-Selling is a classic sales book that really works in reality.
Max Soderpalm
Founder & CEO, Publishing Company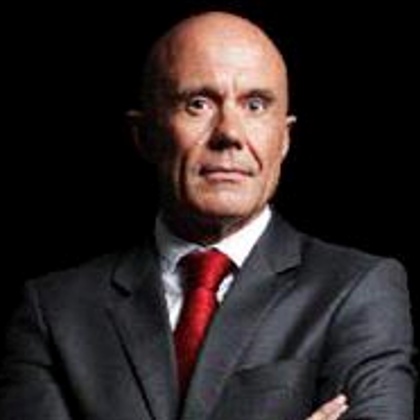 I have a Sales Academy for young people where they get a bootcamp in sales and personal development for ten weeks ten hours a day. You can pat yourself on the back because it would not have happened if you had not written Psycho-Selling.
Mikael
The Sales Academy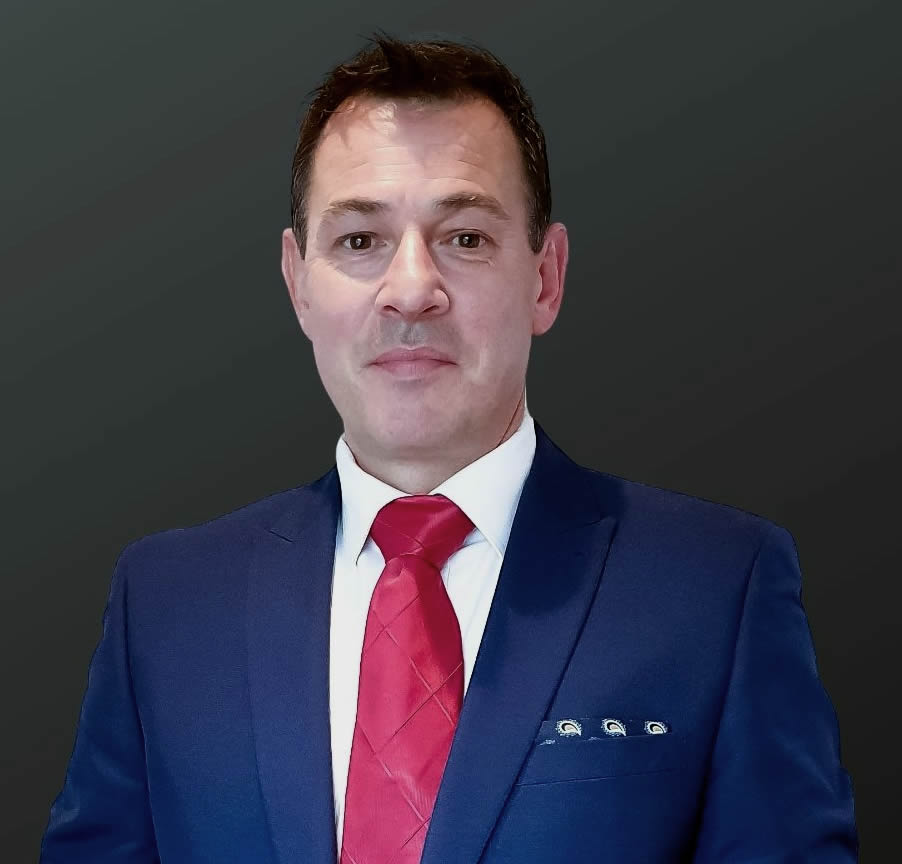 Yes, I know I'm a business parter of Bruce, and I'm biased! That aside, I'm going to tell you this: Psycho Selling is full of groundbreaking techniques and psychological methods to win customers. There is no other book like it.
Chris Haycock
CliqTo Media Ltd
More reviews from Amazon