DOUBLE YOUR INCOME IN JUST 8 WEEKS
Download this all-time classic bestselling book from Bruce King free.
Introduction to market research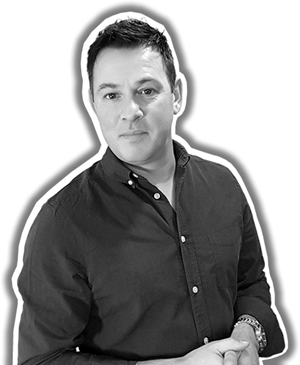 By Chris Haycock | 25 February 2021
Why is market research so important? Well, it enables you to find out more about your target market. When you do this, you'll find all your marketing activities become incredibly compelling and persuasive.
Behind every successful marketing strategy, there's a wealth of knowledge. Knowledge of you, your business and your target market.
Without this knowledge, you'll struggle to define who you are, what your value proposition is, and who your target market consists of.
Oddly, it's quite common for business owners to start selling to their customers without knowing any of this.
You might even hold your hand up and admit that this describes you too. I have one thing to say to you… "ARE YOU SERIOUS?"
Answer this question for a moment. Would you step into a boxing ring with Tyson Fury if you hadn't spent a little time understanding who he is, what his weaknesses are, where his knockout punches are?
Of course you wouldn't. You'd be asking to be knocked to the deck in the first few seconds of Round One.
And another. Would you just jump into the hotseat of a SpaceX rocket and head into space without knowing what you're getting into? You wouldn't, would you?
So why are you making the mistake of doing this with your business?
If you're serious about your business, you need to understand the whole environment that you're operating in.
No excuses, it's something you NEED to do to even think about growing your business.
Believe me, in today's fast-moving world of business, what you need more than either foresight or hindsight - is insight.
In the words of Peter Drucker, The father of business management, "The aim of marketing is to know and understand the customer so well, the product or service sells itself".
Without market research, you're essentially fishing in the world's largest lake with nothing but a rod, a line, and a bare hook. You're guessing what you're going to be catching that day.
Chances are, you're going home empty, and your family are going to be heading to the fish and chip shop instead.
I can tell you, that if there's one activity that separates those that do well in business, and those that fall from grace, it's market research.
So why are so few business owners doing it? Beats me!
I guess it's down to two things: 1) the business owner thinks they already know the market, and 2), the business owner doesn't know how to conduct market research.
I reckon there's a third reason too: that people just can't be bothered because it's not the most interesting activity that marketing has to offer.
Let's face it, we are itching to get stuck into social media, ad campaigns, newspaper ads and flyers.
But if you begin to sell any type of product before researching the market, you're jumping the gun.
And we all know what happens to people that jump the gun - they end up getting disqualified. They're out of the race.
Let me stress this as strongly as I can… market research will be the difference between you being successful with your marketing, and falling flat, not knowing what you did wrong.
Luckily, that's what this section of The Rainmakers is all about.
Sure, market research isn't the most glamorous thing you'll do in marketing. But I can tell you that if you get market research right from the beginning, your bank balance will look a hell lot more glamorous than if you didn't.
So, in the Market Research section of The Rainmakers we'll be looking at how you can go deep, and get an incredibly detailed look at the marketplace you're operating in.
We'll be looking at how you can keep abreast of market trends, how to create customer personas to help with your marketing campaigns.
And we'll be taking a really deep dive into buyer mapping - THE secret to massive sales.
And above all, we'll be learning strategies so that you can walk a day in your customer's skin to find out what makes them buy.
Once you get started, you'll discover an incredible insight into your target market: who they are, what their needs are, how to get to the bottom of their problem, and how to get insights into WHY they buy.
When I put it that way, I bet market research suddenly becomes a little bit more interesting, right?
In short, the more you know about your current and future customers, the easier it becomes to market to them, and the more you'll sell.
It's a bit of a no-brainer, so the earlier you get started with Market Research, the quicker you'll get to the place where you're enjoying extra sales as a result.
Shall we begin?
---

There's more inside The Rainmakers Club
Ready to double, triple or even quadruple your sales? Join the Rainmakers Club today and get access to hundreds more worksheets, ebooks, tutorials, guides, tools and downloads.
NEW FOR 2022! Join our growing club of successful small business owners and get The Raindeck free: a 3-deck strategy for brainstorming and running successful marketing campaigns.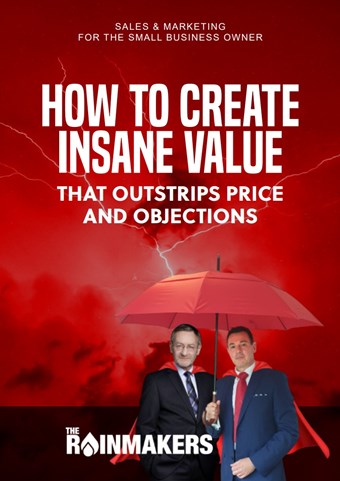 HOW TO CREATE INSANE VALUE
A must-have read for anyone that sells anything
Discover techniques and methods that will increase your product's perceived value - without having to change your product or prices.
Get the book free
GET STARTED WITH
The Rainmakers
Join today for the price of your daily cup of Mocha coffee, and become a sales and marketing giant.
Learn sales & marketing
Double, triple, or quadruple your sales and income.
Expert mentoring
Learn from renowned sales and marketing experts.
Exclusive resource library
Tools, downloads, cheat sheets and worksheets to help you succeed.
Free Raindeck strategy box
Brainstorm, plan and execute brilliant marketing campaigns in no time.
BECOME A RAINMAKER
Let's chat about it...
Schedule a no-obligation call with The Rainmakers Club team, tell us about your business and your biggest problem. We'll give you our advice and honest feedback if membership would work for you.
Helping businesses succeed for 50+ years