DOUBLE YOUR INCOME IN JUST 8 WEEKS
Download this all-time classic bestselling book from Bruce King free.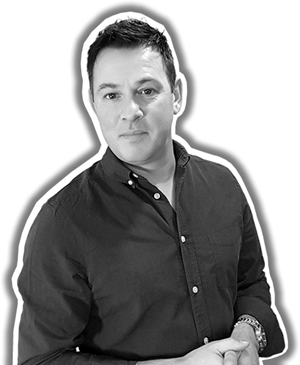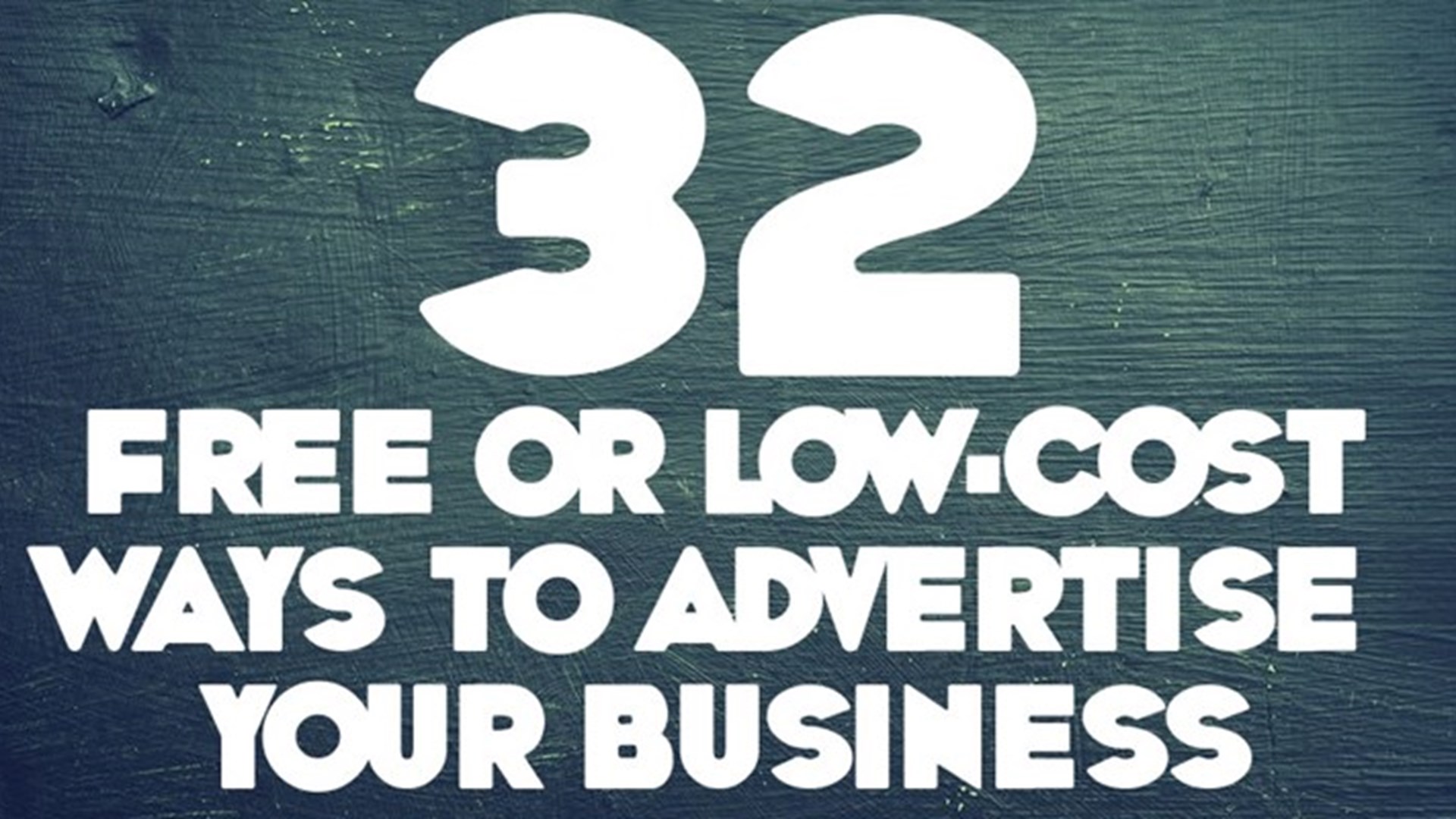 32 Free or Low-Cost ways to Advertise your Business
By Chris Haycock | 12 October 2017
Sometimes we get into such a deep rut with our business that we run out of ideas for ways that we can reach new customers. Here's a list of 32 free or low-cost ways to advertise your business to your target market.
DOUBLE, TRIPLE, OR QUADRUPLE YOUR SALES
Join other small business owners who are benefiting from new sales & marketing skills.
Although my particular expertise is as a digital strategist, marketing has always played a huge role in my career. Before I decided to concentrate on digital, I spent many years working as a marketing manager for various companies, including corporate hospitality (F1), mobile communications, pet health products, automotive, hotels and leisure sectors.
During this time I undertook many traditional and guerilla marketing activities. Some of the campaigns I ran pushed the boundaries of acceptability, but I'm a great believer in doing something different to make you stand out from the crowd, as long as it's ethical. Occasionally you can strike gold.
If you're struggling with marketing ideas, here are 31 free or low-cost ways to get your business in front of your future customers:
Get yourself listed on Google Business (google.co.uk/business/). This is a must if your business has a physical location. When people search Google, are you there? You can control how you appear on Google search and Maps for free. Set your business opening hours, contact information and more. Repeat with Bing Places for Business.
Google "add URL [your industry]", for example "add URL plumbers". This will give you a list of related directories that you can add your details to. Ensure each description and title is unique when submitting your website to each of them. Important: avoid directories that look low quality. Head over to DMOZ.org and submit your website. There are specific rules for DMOZ, so read carefully.
Join Quora and start participating in Q&As relating to your industry. Don't try to sell, try to be helpful. Quora is a great way of positioning yourself as an authority in your industry, and over time you can win new customers from this platform.
Get yourself to a major library and spend a few hours browsing Mintel Reports free of charge. This will give you research into the buying cycle and habits of customers for your particular industry. This isn't advertising as such, but will help when you're working on your ad campaign to identify the buying habits of your target market.
Identify influencers and bloggers in your industry and build relationships with them. Offer to write guest articles for their website. Write blog posts on your own website, mention them, and let them know that you've featured them. Some of the time these influencers will link to you (we humans are ego-driven).
Head to exhibitions and conferences where your target market hang out. Talk to business owners, find out their needs. Find out how your competitors are positioning and advertising themselves. Discover gaps in their business that can help define your USP.
Consider a small but very targeted leaflet drop to geographic areas that fit your target market (this is where good market research plays a huge part). Measure the response, and if the returns are greater than the investment, repeat in a new area or scale further. A small run of 5,000 leaflets costs less to print than you think. Alternatively, piggy-back on an existing leaflet drop and share the costs.
Approach the editor of your local magazines, periodicals and newspapers and ask whether they would allow you to write a regular guest column for their readers to benefit from.
Do something press-worthy. For example, if you are a hairdresser perhaps you can offer free haircuts for the homeless in your area. Homelessness is currently a hot topic - the press love a heartwarming story about local businesses helping the homeless.
Set up a lead generation page on your website (or on leadpages) and drive a small trickle of targeted traffic to it from Facebook ads. Perhaps you can offer something free to download, such as a beginner's guide to [insert your trade]. Collect email addresses and start building long term relationships with them via email. Become credible. Test, optimise and repeat.
Consider strategic partnerships with other related businesses in your area so that you can refer clients to each other.
If you're in the health sector, find out whether local surgeries will allow you to advertise your services in their waiting area. If not, have a look to see if there are local magazines they normally leave in their waiting area. Advertise in these.
Open up a temporary drop-in pop-up shop and offer free advice or showcase your products/services for a few days.
Create your own referral scheme that offers incentives for customers who refer others to you, such as discounts on further purchases, cash or freebies.
Conduct market research in your local high street. Make it all about gaining valuable insight rather than a selling activity, but give respondents a flyer for your business (with a discount to say thanks).
Head to the library and insert flyers in the front cover books that you know your target market are reading. (Sneaky tactic).
Join HARO (helpareporter.com). HARO is a service that allows reporters to find sources for their stories quickly. If you are an expert in your field you could be asked to comment on a story by reporters, giving you free exposure.
Run a web banner exchange with complementary businesses with websites. Alternatively, see if you can come up with an advert exchange where you put your ad on the back of someone else's flyer, leaflet or business cards and vice versa.
Get your logo and strapline printed/embroidered onto the back of a coat (winter) and t-shirts (summer). Keep business cards & flyers in your pockets for those that stop to ask you for details.
Run free seminars about your product. Offer value and help, rather than making it a sales-focused seminar. For example, a plumber could run a seminar titled, "How to resolve common household plumbing problems" at local venues.
Set up a Facebook business page if you haven't already done so. Run low-cost Facebook ad campaigns and scale when you've hit the magic spot, i.e. when you earn more than you spend.
Get yourself on Google+ with your own business page. This is one of the quickest ways of giving you a little boost in Google search rankings.
Newsjacking. Breaking news spreads quickly, and you can jump on this by positioning your business alongside the news item, which could generate free media coverage for your business. Additionally, consider using hashtags in your social media posts to become part of the buzz.
Get stickers printed with your logo, strapline and website address. Give them to customers - you never know where they will be used
Get t-shirts printed and give them to charity shops where their customers will buy them and advertise your business free.
Run a competition and promote it via your website, social media channels, your newsletter, and competition portals such as Loquax.
Get involved with schools and colleges. Offer inspirational talks to pupils about your specialist area of expertise. For example, last year I helped run a £10 challenge for a class of pupils in a local school to inspire entrepreneurism, by setting a challenge to turn the money into as much profit as they can in a certain time period. These children may become future evangelists for your business.
Send hand-written greetings cards to directly to your target market. As business owners we get these greetings cards all the time, so think about ways that you can make yours stand out. I once received a card which when opened out flew a paper butterfly. It made me jump in surprise, but it was effective, and VERY memorable.
Print your business details onto a large batch of napkins and see if local pubs/restaurants will be willing to use them (it'll save them a bit of cash).
Offer a small but irresistible discount to people that share your business details via social media.
If you're a member of your local Chamber of Commerce, check to see if they have a directory of members where you can add your website address and business details.
Be kind and generous to people. Karma really does work.
Have you got any ideas that you can add to this list?
Ps If you found this helpful, please consider donating a sleeping bag for the homeless via my charity -
www.kipbag.com
;)
---

There's more inside The Rainmakers Club
Ready to double, triple or even quadruple your sales? Join the Rainmakers Club today and get access to hundreds more worksheets, ebooks, tutorials, guides, tools and downloads.
NEW FOR 2022! Join our growing club of successful small business owners and get The Raindeck free: a 3-deck strategy for brainstorming and running successful marketing campaigns.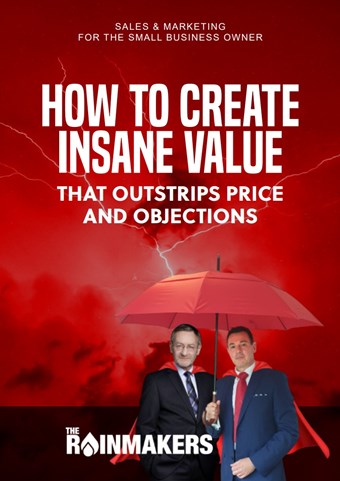 HOW TO CREATE INSANE VALUE
A must-have read for anyone that sells anything
Discover techniques and methods that will increase your product's perceived value - without having to change your product or prices.
Get the book free
GET STARTED WITH
The Rainmakers
Join today for the price of your daily cup of Mocha coffee, and become a sales and marketing giant.
Learn sales & marketing
Double, triple, or quadruple your sales and income.
Expert mentoring
Learn from renowned sales and marketing experts.
Exclusive resource library
Tools, downloads, cheat sheets and worksheets to help you succeed.
Free Raindeck strategy box
Brainstorm, plan and execute brilliant marketing campaigns in no time.
BECOME A RAINMAKER
Let's chat about it...
Schedule a no-obligation call with The Rainmakers Club team, tell us about your business and your biggest problem. We'll give you our advice and honest feedback if membership would work for you.
Helping businesses succeed for 50+ years