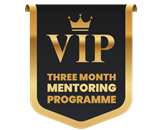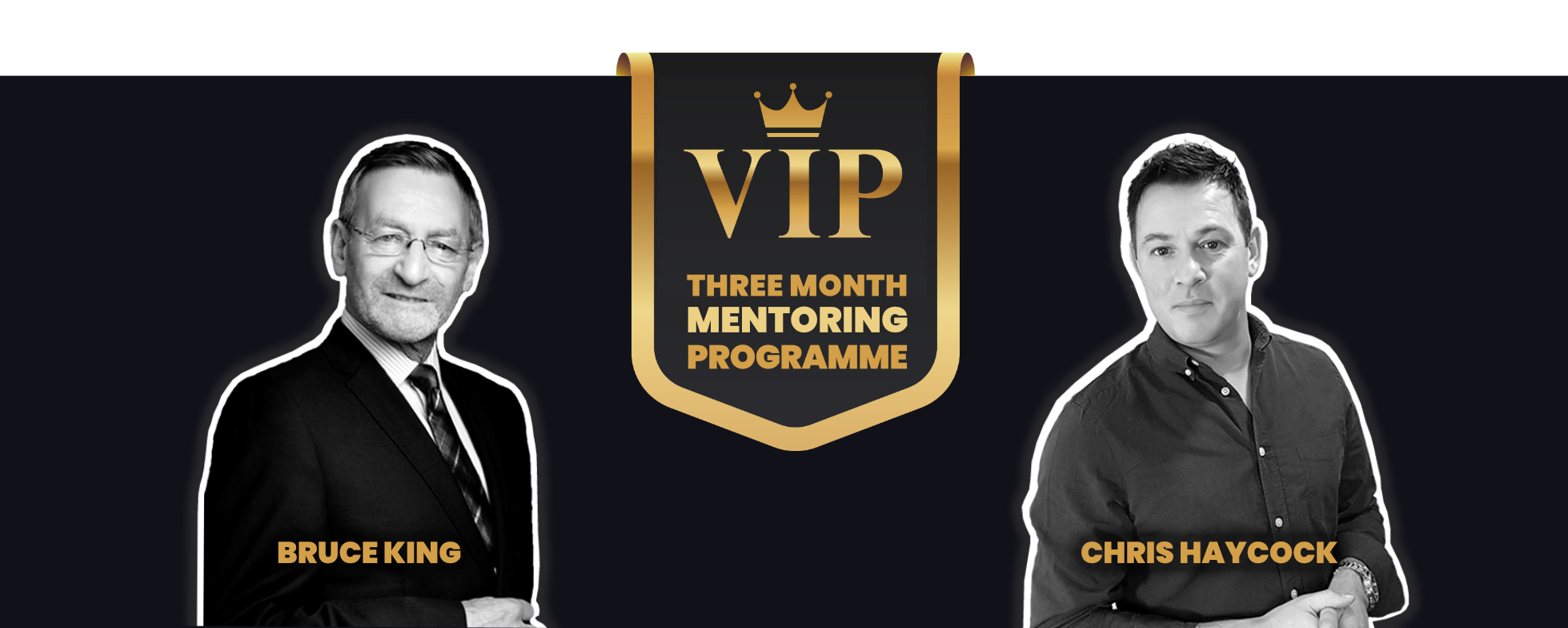 Sales & Marketing mentorship from experts Bruce King and Chris Haycock
Want to get REALLY serious about growing your business?
The Rainmaker's VIP Mentoring Programme goes above and beyond, by giving you access to two of the most experienced Sales & Marketing professionals you're ever likely to meet.
Let us hold your hand and give you personal mentoring advice tailored exclusively for YOUR business.
SAVE £1,200

* VIP mentor programme lasts 3 months, thereafter your membership reverts to standard membership plan of £69 per month (optional). Cancel any time after 3 months.

APPLICATIONS OPEN
Begins 9 January 2023
On the 9th of January 2023 we'll be launching our VIP Mentorship Programme to just FIVE small business owners.
To celebrate the launch of our new and exclusive programme, we're offering a special introductory price of just £99 per month, saving you £400 per month on our usual mentoring price.
Want your business to
succeed

in 2023?

Ready to start a new, successful chapter for your business in 2023? Join the exclusive Rainmakers Club VIP Mentorship Programme and watch your profits soar.

We're now open to new applications for small business owners to receive personal business mentoring from Sales & Marketing experts Bruce King and Chris Haycock.
What does the
VIP programme

include?

Our mission is to help these business owners to double their sales (or more).

Bruce and Chris have 50+ years of Sales & Marketing experience, and know how to use it to grow profits and customers. In this VIP Programme, we'll give you access to our personal strategies, plans, knowledge and skills to help your business succeed in 2023. In the programme you'll get:
Full, unlimited access to every

tutorial

,

tool and download

in The Rainmakers Club platform.
Personal mentoring to get your sales & marketing on target and on track towards success.
Free Raindeck (worth £285), "

Marketing in a Box

", sent to you by post right after you join (see below for details).
Regular "Power Hour"

video or phone sessions

(your choice) with Sales & Marketing experts Bruce King and Chris Haycock 1
Bespoke strategies designed to help your small business leapfrog your competitors and grow your profits 2
1 Each month you get four, 1-hour sessions with Bruce and Chris (2 each), who will pass on their 50-years of experience in Sales & Marketing.
2 We'll chat with you in-depth to analyse your business model and provide a tailored strategy to help your business succeed.
What
results

can I expect?

You'll see tangible results almost immediately.

Not only will you be able to sell more products and services to your existing customers, you'll have the tools and knowledge to run successful marketing campaigns designed to win NEW customers.

Remember, our reputation as Sales & Marketing experts is on the line, so we will ALWAYS go out of our way to help your business succeed. If that means going above and beyond what we promise, then we'll always choose to go the extra mile for you.
100%

Money back guarantee

We guarantee that you cannot get this level of Sales & Marketing mentoring at this price, anywhere. Our VIP Programme offers you personal mentoring for a 3-month period (with an option to cancel or continue your Rainmaker Club membership at a reduced price of £68 per month thereafter).

If - after the third month you find that your profit hasn't exceeded the investment in the VIP Programme, and you've made every effort to follow our strategies, then we'll refund you in full.

You can even keep your Raindeck, and use it for life!
Do you accept
anyone

in the VIP programme?

Unfortunately not. There are pre-qualifying requirements to join the programme. We can only accept small business that meet the following criteria:
UK small businesses (

for our introductory launch intake

).
Annual turnover of

at least £20,000

per annum.
A willingness to learn and put into practice your new knowledge.
We'll be investing time, effort and energy into your personal success, so we have to keep numbers manageable. That's why we have just 5 spaces.
Sounds like a
winning

formula. What now?

Want to be a part of it? Just register your interest by filling in the form on this page.

If you're accepted into the VIP Mentoring Programme, we'll let you know around mid-December to give you plenty of time to prepare. On the 9th of January we'll start the programme and you can look forward to a successful 2023, with increased profits, customers, and growth.
Not ready

to put in the effort?

Warning… We know that success doesn't come without putting in time, effort and energy. Our VIP Mentoring Programme is no different.

If you're not willing to invest time with with us to implement the strategies we suggest, then you are not suitable for the mentorship.
Apply for VIP Mentoring
Complete the details below to be considered to join The VIP Mentoring Programme.
SUPPORTING STATEMENT
Please tell us why you think your business is suitable for The VIP Mentoring Programme (max 30 words).
Note: we only have 5 VIP spaces per month. Acceptance is at the discretion of The Rainmakers team. By applying, you are under no obligation to accept.
Your information is STRICTLY confidential, and NEVER EVER shared.
100% spam free guarantee. We don't use your email address or personal details for any other purpose other than to inform you if you are successful.
Get The Raindeck free as a VIP
Worth £285/$308
Once you've joined, we'll send you our new and exclusive product - The Raindeck - absolutely free.
Say hello to more successful, profitable marketing campaigns. Wave bye-bye to not knowing how to market your products.
The Raindeck box set of 3 strategy decks helps you brainstorm, create, and execute marketing campaigns that win customers... straight from the box.
No more guesswork with your marketing campaigns.
Completely free when you join The Rainmakers Club.

Helping businesses succeed for 50+ years